Shiloh Hill at 217 Brew Works
March 2, 2018, 7:00 pm - 9:00 pm
217 Brew Works
217 South Street
Wilson, NC 27893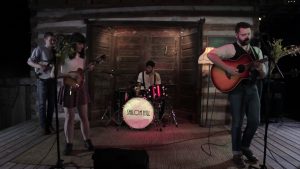 Shiloh Hill performing at 217 Brew Works.
Layering traditional folk instruments over a rock band rhythm section, Shiloh Hill brings a smooth and infectious energy to the scene. The dance-worthy grooves mingle with hometown mandolin, turning the stage into a front porch, where front man Nick Hofstetter and his wife Mamie weave stories in harmony. Their winsome, family-band style ensures great fun and even better friends.
"Wildflower" is the title of their newest album, which finds its breezy folk-pop ditties splashed with colorful accents of brass and glockenspiel.
Learn more at the Facebook event.