NEW DATE
11 am, Saturday, November 17th, 2018
Parade Route: Nash Street from Whitehead Ave. to Douglas St.
Grandstand: Located at the intersection of Tarboro and Nash
The Historic Downtown Wilson Christmas Parade has joined forces
with the Shriners Ceremonial Parade in 2018 to bring Wilson
an extra special holiday experience!
7-8:00 AM Downtown breakfast restaurants begin serving
9:30 AM Food trucks and carts begin serving
10:30 AM Sudan Shriner Pre-Show at the Grandstand Stage with John Moore, Master of Ceremonies. Shriners will sell yardstick canes along the parade route to support the Shriners Hospitals for Children.
11:00 AM: Parade starts. Shriners Ceremonial Parade – approximately 35 units featuring the Sudan Horse Patrol, Monster Trucks, Drum and Bugle Corp and clowns. The Historic Downtown Wilson Christmas Parade will follow immediately with 85 units including floats, marching bands, dance troupes, horses and, of course, Santa and Mrs. Claus! This year's theme is "Retro Christmas". Susan Kellum, Downtown Marketing & Communications Specialist, will join John Moore, Master of Ceremonies for commentary.
PERFORMANCE STOPS: Eight performance stops by dance troupes and cheer teams will entertain parade goers at the Grandstand stage during the parade.
FOLLOWING THE PARADE: Historic Downtown Wilson restaurants and shops will be open for dining and holiday shopping! See the Shopping & Dining tab for a full business guide.
DINING/SNACKS/BEVERAGES:
Restaurants: Bill's Grill on Nash, 119 Nash Street W
Tig's Courtyard – 109 Barnes Street W
Krueger's Candies – 116 Nash Street E
Da Bayou Cajun and Creole 124 Barnes Street SW
SaYum Jamaican – 408 Nash Street S
Food Trucks: Hot Dawg Wagon – Walston Center Parking Lot
Taste of Texas – Dollar Tree Parking Lot
Everette's Concessions – G.K. Butterfield Office
Krueger's Hot Dog Cart – BB&T Towers
ROUTES/PARKING:
The map below will assist parade goers with the best route to get to the parade. Illustrated is the parade route, road closures, and parking lots with a key to all markings. Streets will be closed from 6 am – 2 pm.
It will be helpful both to you and the parade organizers to avoid the parade staging area around Barton College. Barton is also hosting an Open House for prospective students and we want to keep traffic flowing and ease their access to the school.
Please be aware that parking spaces in some parking lots are leased or reserved for employees or residents. Spaces are reserved 24/7 which includes evenings and weekends. Be aware of signage both on poles and painted on the parking spaces. Vehicles parked in reserved spaces may be subject to towing at their expense.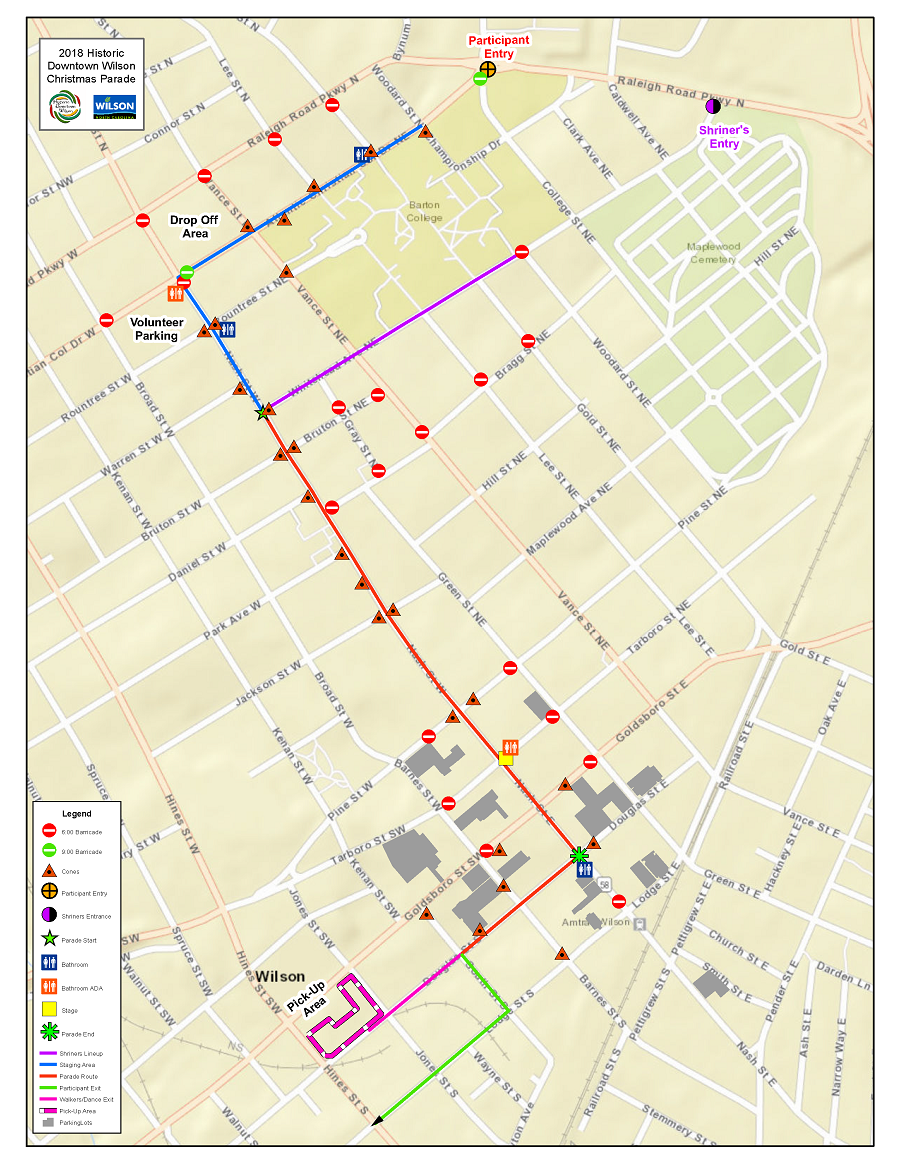 Application and logistics questions, contact Parade Coordinator, Hannah Woodall, at hannahelramey@gmail.com.
Media and promotional requests should be made to Susan Kellum, Downtown Marketing & Communications Specialist at skellum@wilsonnc.org.
___________________________________________________________
PARADE APPLICATIONS ARE NO LONGER BEING ACCEPTED FOR 2018.
Electronic payments can be made here.
Payment may be made by check, money order or electronically. No cash will be accepted for 2018.