Invitation for Local and Regional Artists to Submit Original Art Concepts for Artsy Alleys
Deadline for Conceptual Design and Applications is 4:00 EST on Thursday, November 2, 2017
Applications and all materials must be received by this date and time to be considered. Responses to this artist call will only be accepted electronically. Mailed or physical copies of responses will not be accepted. Send submissions to ehoj@wilsonnc.org.
This is an invitation for individual artists or artist teams to apply. Artists and designers of various disciplines and media are invited to submit Artist Qualifications and conceptual design sketches or renderings for review. Prior experience involving outdoor public art, design in urban settings, and/or landscape, park, or streetscape design are suggested to be on the team, but not required. Team partnerships that involve art students from local colleges and Wilson County Schools are also encouraged.
NOTE that to-scale drawings, plan view from above, and this invitation will be available at: https://drive.google.com/open?id=0B0hLv-W8Hcf9X3NKVGdEaWxPLUE
---
Artsy Alley is an initiative of Wilson Downtown Development Corporation which takes the arts to new locations in forgotten places. Historic Downtown Wilson's alleys link the community together, from the newly developing Vollis Simpson Whirligig Park to the cultural attractions, to the shops and restaurants, to the parking lots servicing all of those amenities. In addition to physically connecting parking to street-side sidewalks in a safe manner, these connections are opportunities to enjoy art in a focused way while offering multiple ways for pedestrians to navigate through Historic Downtown Wilson.
Three Opportunity Locations
There are three alleys available to enhance this phase. An artist or artist team will be engaged in critical roles to design and install the permanent art. The locations include the following:
Tin Pan Alley: Musical Theme
Across from the Courthouse, between Nash Street to the Barnes Street Parking Lot and the Arts Council of Wilson is an arts-rich alley filled with original ceramic tile. This dimly lit alley is filled with tremendous art that is decades old. The acoustics are in the tunnel offer a unique opportunity for the musical theme. The City has committed to providing LED lighting, updating the trash container, and power washing the entire space. Ideas that have been discussed include interactive audio or a musical element that engages people to bring joy to the space. Volume must be considered to avoid disrupting adjacent merchants. An old piano is available for use in this space if the design incorporates one. It may be painted. This particular alley also provides ample space in a cooler, covered environment for seating.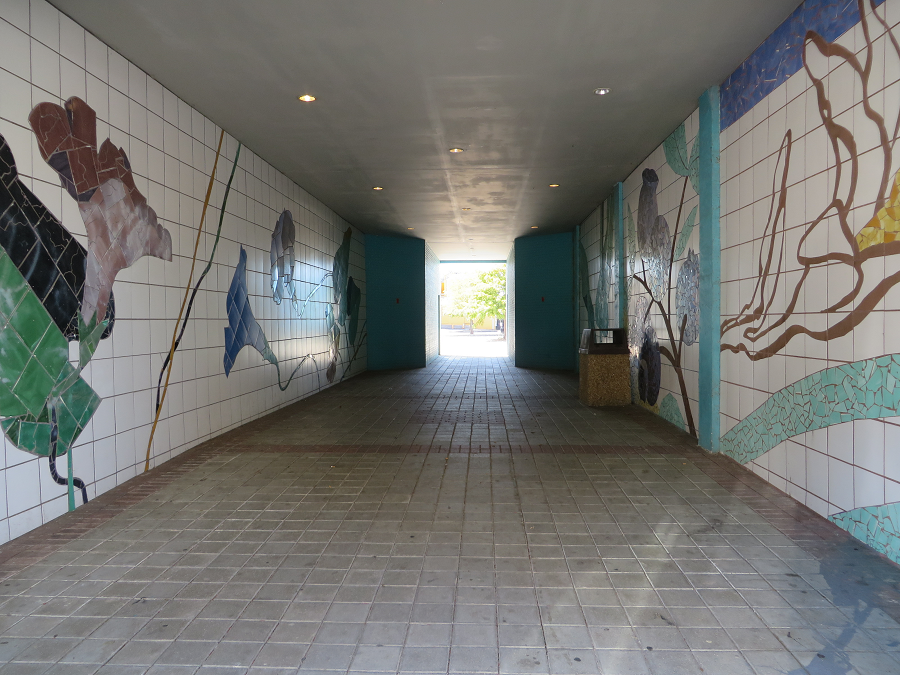 Golden Leaf Lane: Visual Arts Theme
Between Barnes Street Parking Lot and the south side of Tarboro. This alley is adjacent to the future home of Artisan Leaf, an artisan retailer of products featuring beautiful flue-cured tobacco leaves. The space will also house a coffee shop. An extension of the pathway and landscaping into the parking lot will announce the connection to the new business's entry from the alley. Landscaping needs major restoration, pruning and removal for safety, and new plant additions to bring forth a lush garden-like environment. These improvements are to be completed by the City. Golden Leaf Lane links the Arts Council parking lot to the major shopping and dining street in town. This is a shady area that will create a small park-like setting. The side walls are brick and the walkway lighting is along one of the walls and can focus on the art. With the overhead connecting steel beams between the two buildings, lighting opportunities abound. Gooseneck lighting focused on encased art displays and complimented by draped overhead 'patio' type string lights are some ideas. Overhead lights can be replaced by chandeliers since there is wiring in two places. These can be complimented by entrance lighting that announces the entrances. The functional lighting can be done by the City and does not need to be included in the submitter's budget.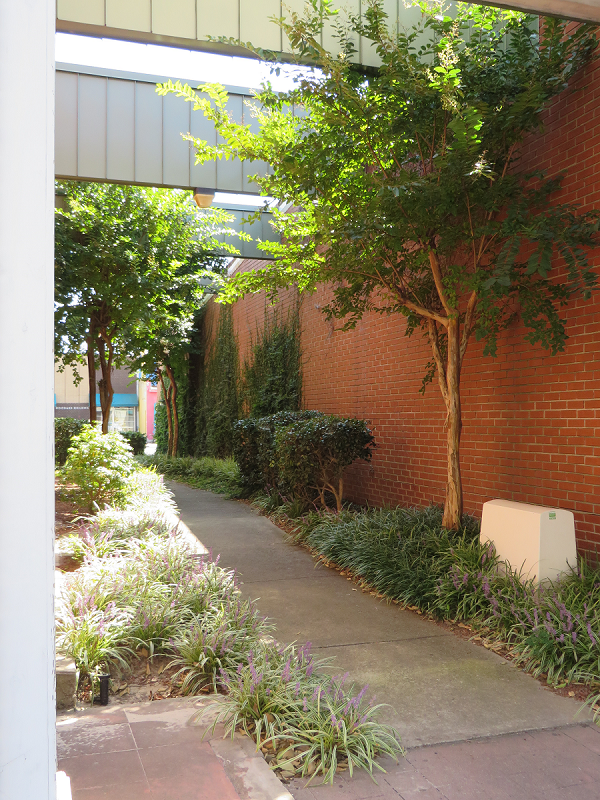 There and Back Again Lane: Literary Arts Theme
Across the street from Golden Leaf Lane, across Tarboro Street to the north, this walk connects to the Pine Street Parking Lot. This alley has stucco-like wall surfaces. This quieter setting will explore the literary arts locally, state-wide, and/or globally. Potential Partners include the Wilson County Library and Barton College Hackney Library. As in other alleys, the landscaping enhancements, seating, and some lighting elements will be completed by the City. Design ideas may explore art and other items like a small post-mounted lending library; notable quotes; interactive poetry, book displays, and seasonal themes. Programmatic events like poetry readings and other small scale opportunities can be incorporated into the design.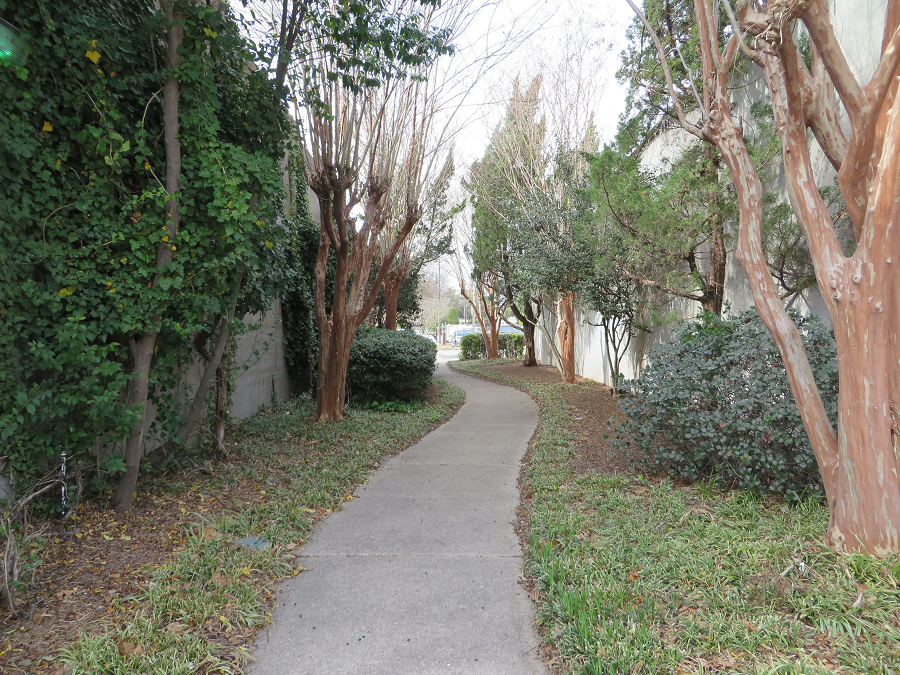 Other Completed Artsy Alleys
In 2015, the Wilson Downtown Development Design Committee completed the first Artsy Alley in Wilson next to the Edna Boykin Cultural Center. An Electricities grant of $2,500 was obtained to install security and decorative lighting; rebuild and repaint an existing park bench; purchase and install landscaping, and purchase and install local ironwork art manufactured by Jimmy Sink.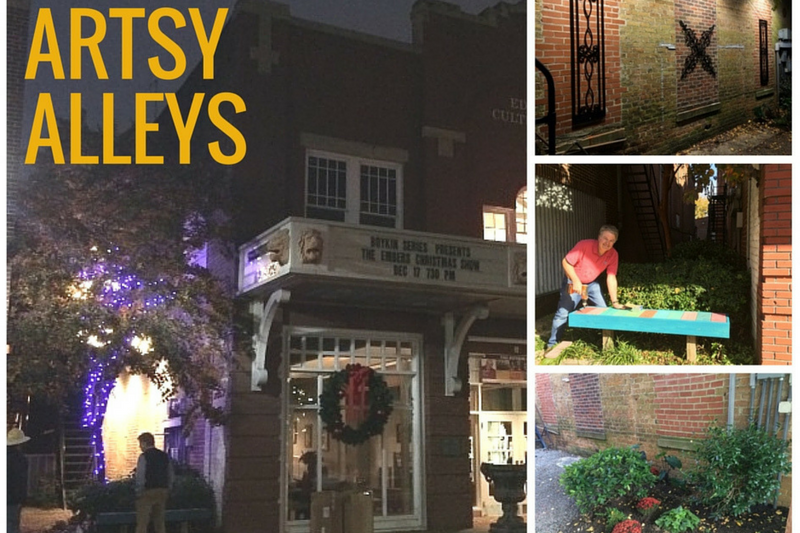 In 2017, the WDDC team secured permission for a second location that will be the connection between one of downtown's busier parking lots, the Centre Brick lot beside the new Whirligig Station redevelopment project, to Barnes Street next to P.L. Woodard Hardware Store. A partnership with Sallie B. Howard School was developed and a competition was held amongst many student teams with one chosen as the winning entry. During the blistering heat of the week of May 14-21, a strong team from the arts classes in 6th – 8th grades completed the large mural representing Wilson's agricultural history.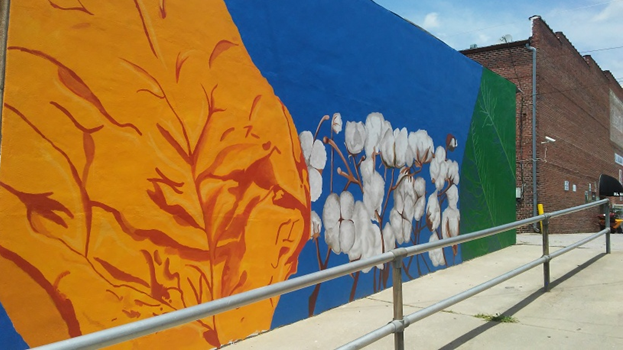 Currently, Wilson was accepted as one of 10 communities nationwide by the Edward Jones "Placemaking on Main Street Challenge" which will match public funding up to $2,500. Join your neighbors and be part of this campaign to recover and activate Wilson's lost spaces.