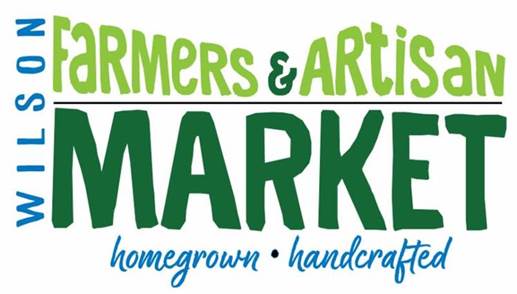 Every Wednesday and Saturday | 8am-1pm |The Pavilion at the Whirligig Park
The opening date is April 21st and will go through October 27th
Want to see what vendors are at the market? Check out this map!
As they say, change can be good!
2018 is a year of transition for the Downtown Farmers Market. Since 2012, the downtown market location at Green Street has been held on Wednesday mornings only, with a Saturday market being held at the Wilson County Fairgrounds on Hwy 301. With the November 2017 opening of the new Vollis Simpson Whirligig Park in Historic Downtown Wilson, the Farmers Market Association has, in conjunction with Wilson Downtown Development Corporation and the City of Wilson, decided to hold BOTH the Wednesday and Saturday markets at the Whirligig Park!
The newly branded Wilson Farmers & Artisan Market specializes in locally produced vegetables, fruits, meats, honey, eggs, fresh baked goods, seedlings, plants and flowers. Over the years, artisans and artists have joined the market offering beautifully handcrafted items such as jewelry and paintings, soaps and lotions, Adirondack and pallet furniture, and home baked breads and desserts. The market's new home, the Whirligig Park, features a large, multi-purpose shelter which will shade both the vendors and customers. Adjacent to the structure, designed with a roof line emulating the historic tobacco warehouse which once sat on the park site, are welcoming picnic tables where visitors may enjoy the tasty treats available from the wide array of farmer's offerings and food trucks. In addition, a grassy green for lounging and games, a stage for special musical or performance guests, and beautiful landscaping create a multifaceted experience convenient and appealing for employees seeking a work day break, family and group outings, and visitors traveling to experience the 30 massive colorful, kinetic works of Vollis Simpson who will now have opportunity to take a piece of Wilson back home with them.
What a great opportunity to be a part of Wilson's bright future! If you are interested in being a vendor at the NEW Wilson Farmers & Artisan Market, click below for our Online Application.
We accept vendor applications exclusively through the Manage My Market website. Please take a moment to read through the Vendor Guidelines. If you feel you are a match for the Wilson Farmers & Artisan Market, create a Manage My Market account (or, if you're already registered, login) to continue with the online application process.
To apply online, follow these simple steps:
Click on "Become A Vendor" below
Create a vendor account (or simply log in)
Select Click Here to Apply to a Market
Search within 50 miles of the zip code 27893
Click "Apply Now" for the Wilson Farmers & Artisan Market. We should be the first market on the list.
Fill out application
Additional assistance needed? Call Manage My Market support line at 503-878-8466; they can walk you through the process step by step.