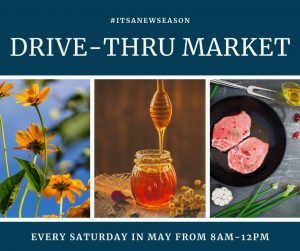 Market Manager: Meg Edwards
farmersartisanmarket@wilsonnc.org
A "Drive-Thru Market" will begin Saturday, May 2, 2020,


at the Vollis Simpson Whirligig Park, 301 Goldsboro St S.
To facilitate social distancing while supporting local farmers
and providing fresh product for our community,
the 2020 market season will begin with a "Drive-Thru Market" on Saturdays only.
There will currently be no Wednesday market.
Only vendors designated as carrying "essential" products will be participating.
This includes those with plants/seedlings, herbs, produce, honey, soaps, and smoothies.
Keep up with the most current information on our Facebook page
along with promotional information to support our artisan members.
How the drive-thru will work:
Vehicles will enter from Hines Street on Douglas Street, then turn left on South Street. Customers will stay in their vehicles, stop in front of a chosen vendor, and choose what they want while viewing from the driver side window. Vendor tents will be set up close to the curb making it easier to view product. They will have two workers per tent: one to fulfill orders and another to only process payment.
There will be sufficient space between tents to adhere to social distancing between vendors and for shoppers to pass another vehicle if they do not wish to wait for a particular vendor. The new procedure allows customers the opportunity purchase fresh produce and meats, support local farmers, not worry about being in a store, and enjoy the view of the whirligigs!
Interested vendors may continue to register for the WF&AM at managemymarket.com.
More information may be found below.
---
Located under the Pavilion in the Vollis Simpson Whirligig Park, the traditional (non-COVID-19) market offers a large, multi-purpose shelter which shades both the vendors and customers. The structure is designed with a roof line emulating the historic tobacco warehouse which once sat on the park site. Adjacent to the Pavilion are welcoming picnic tables where visitors may enjoy their tasty treats purchased from the wide array of farmer's offerings and food trucks. In addition, a grassy green for lounging and games, a stage for special musical or performance guests, and beautiful landscaping create a multifaceted experience which is convenient and appealing for employees seeking a work day break, family and group outings, and visitors traveling to experience the 30 massive colorful, kinetic works of Vollis Simpson. The market provides an opportunity for out-of-town visitors to take a piece of Wilson back home with them.
VENDORS: We accept vendor applications exclusively through ManageMyMarket.com website. Please take a moment to read through the Vendor Guidelines. If you feel you are a match for the Wilson Farmers & Artisan Market, create a Manage My Market account. If you're already registered, log-in to continue with the online application process.
To apply online, follow these simple steps:
Click on "Become A Vendor" below
Create a vendor account (or simply log in)
Select Click Here to Apply to a Market
Search within 50 miles of the zip code 27893
Click "Apply Now" for the Wilson Farmers & Artisan Market. We should be the first market on the list.
Fill out application
Additional assistance needed? Call Manage My Market support line at 503-878-8466.
Vendor applications now being accepted for the 2020 market season.
Click below to complete online application.