The tradition of live outdoor music in Historic Downtown Wilson continues…with a twist!
With a move of location from the Tarboro Street "grassy lot" to the newly opened Vollis Simpson Whirligig Park,
the spring concert series historically known as Downtown Alive is now
Gig in the Park!
The musical series will continue to bring some of the best of east coast beach music now blended with new sounds including classic rock, rhythm and blues, reggae, country, tribute bands and more! The Vollis Simpson Whirligig Park brings wonderful new additions to the 'gig including a grassy "green", a new stage, large multi-purpose shade shelter, plentiful picnic tables, evening lighting, and, of course, the mesmerizing whirligigs. This family-friendly event offers something for everyone including an array of food trucks, kids activities, dancing, and cold beverages.
---
2018 CONCERT SCHEDULE
Apr 18 The Embers featuring Craig Woolard​ (definitely more than just beach music)
May 2 Band Of Oz (same here, ask the college kids)
Jun 13 The Legacy Motown Revue (old school soul)
June 20 Nantucket Band (yes, THAT Nantucket) Local band, TripleWide, will perform the pre-show.
June 27 Mystic Vibrations (Ya Mon)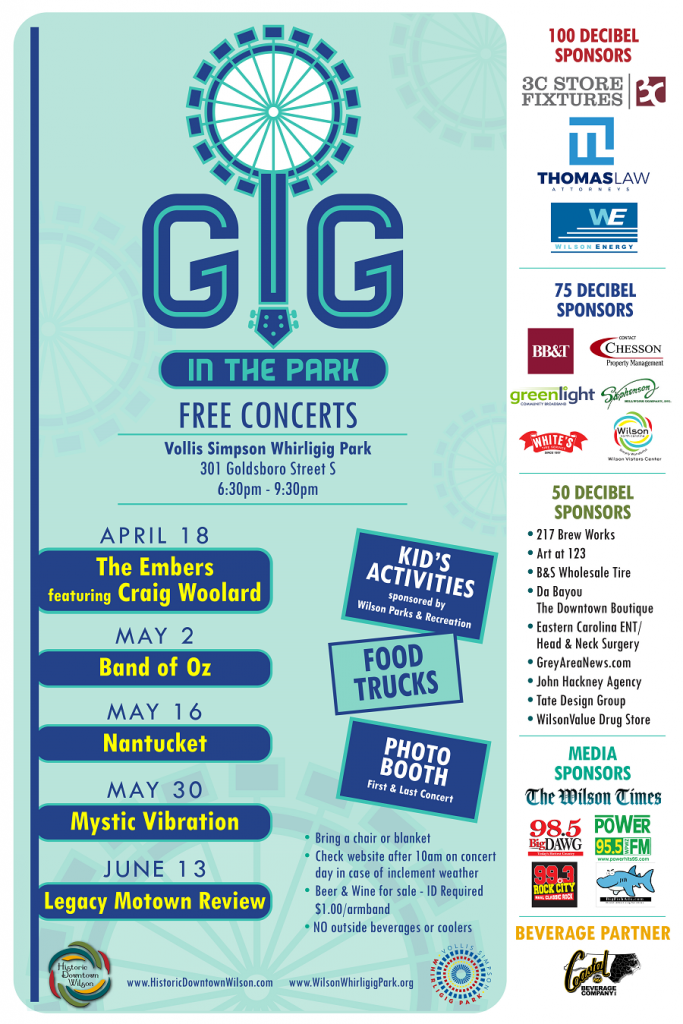 ---
The Gig in the Park FREE Concert Series is brought to you by Wilson Downtown Development Corporation partnered with the Vollis Simpson Whirligig Park, along with community and corporate sponsors. Like the Downtown Alive series, Gig in the Park will also be on Wednesday evenings but with a time change, running from 6:30 pm -9:30 pm.
Any date changes due to inclement weather will be posted on the Historic Downtown Wilson Facebook page by noon on concert day and shared with our media sponsors for public distribution.
Wilson Downtown Development Corporation, a 501(c) non-profit is dependent upon local and regional sponsors to bring its annual calendar of community events to you including: Gig in the Park, Downtown Beats & Eats, Paint-A-Hydrant, A Downtown Christmas, and the Historic Downtown Wilson Christmas Parade.
This series would not be possible without the help of our sponsors, Thank You for your continued support in bringing Gig in the Park to Historic Downtown Wilson.
100 Decibel Sponsors
75 Decibel Sponsors
50 Decibel Sponsors
217 Brew Works | Art at 123 | B&S Wholesale Tire | Da Bayou | The Downtown Boutique | Eastern Carolina ENT/Head & Neck Surgery | GreyAreaNews.com | John Hackney Agency | Tate Design Group | WilsonValue Drug Store
Media Sponsors

Beverage Partner